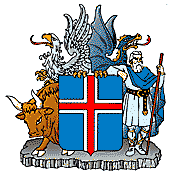 About this web site
Periodically, we receive queries from abroad regarding the Icelandic National Anthem. When we came across a special edition of the anthem, published by the Prime Minister's Office in 1957, we decided to seek authorisation to build a web site based on it. The ministry granted permission on behalf of the Government of Iceland. The following individuals gave permission that their material could be published on the web:
Jón Stefánsson on behalf of the Langholt church choir
Júlíana Elín Kjartansdóttir on behalf of Langholt church chamber ensemble
Vilhjálmur Bjarnason on behalf of Lýðveldið sf.
Birgir Thorlacius for the appearance of his article "Íslenski þjóðsöngurinn".
The above mentioned permissions grant free nonprofit use of the material here published. Modification, selling or leasing any material found on this web site is not authorised - see also law concerning the national anthem (Icelandic).
The following sound recordings may be audited or downloaded of this web site:
The Icelandic national anthem, "Our Country's God", Langholt church choir, a cappella. Conducted by Jón Stefánsson
The Icelandic national anthem, "Our Country's God", Langholt church choir and chamber ensemble. Conducted by Jón Stefánsson.
These recordings are from the CD "Ísland er Lýðveldi" ("Iceland is a Republic") (ISL 50-2), recorded 1994. Recording engineer: Bjarni Rúnar Bjarnason. Publisher: Lýðveldið sf. Distribution: Japis.
Special thanks to: Páll S. Guðmundsson, sound master at Icelandic the National Radio Broadcasting Service (RUV); Anna Melsteð, web master at RUV; Una Margrét Jónsdóttir; Jórunn Sigurðardóttir; Hjálmar Sveinsson; Edward Fredriksen; Jan Murtomaa; Oddný Halldórsdóttir; Guðrún Catherine Emilsdóttir; Catherine Eyjólfsson; Hreinn Valdimarsson and Þórir Steingrímsson.
This web site is a non profit construction and consists of about 150 documents.
May 1st 2000
Jón Hrólfur Sigurjónsson
Bjarki Sveinbjörnsson